Legacy.
We hear that word a lot. From pastors and preachers to politicians and presidents, people want to know what difference they've made in the world. The legacy of a good person may be filled with multiple success stories and many lives changed for the better, with the positive effects of that life evident for generations to come (ie: Mother Teresa, Winston Churchill, Jonas Salk, etc.). Other, more notorious, historical figures leave a legacy of pain, destruction, and sorrow in their wake (ie: Adolph Hitler, Pol Pot, Josef Stalin, etc).
It reminds me of a quote from the movie Gladiator. General Maximus was speaking to his troops when he said…
"What we do in life echoes through eternity."
To put it another way, I like these words the unlikely angel Clarence Odbody said to George Bailey in the Christmas classic It's a Wonderful Life…
Strange, isn't it? Each man's life touches so many other lives.
When he isn't around, he leaves an awful hole, doesn't he?
Throughout the Bible, we are encouraged to leave a Godly legacy…
A good man leaves an inheritance to his children's children,
But the wealth of the sinner is stored up for the righteous. ~ Proverbs 13:22

One generation shall praise Your works to another,
And shall declare Your mighty acts. ~ Psalms 145:4

You shall love the Lord your God with all your heart,
with all your soul, and with all your strength.
And these words which I command you today shall be in your heart.
You shall teach them diligently to your children, and shall talk of them
when you sit in your house, when you walk by the way,
when you lie down, and when you rise up. ~ Deut. 6:5-7
So maybe you are thinking, "What I do doesn't matter." If that is your thought, then I urge you to consider…
Edward Kimball.
In the 1850's, while living in Massachusetts, Edward taught a Sunday school class of teenage boys (no easy feat, to be sure). While visiting a shoe store, he led a young clerk to faith in Christ — a young clerk named…
Dwight L. Moody.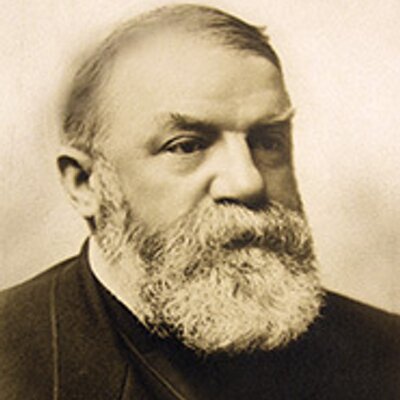 D. L. Moody became a world-changing evangelist. During the Civil War, he ministered to both Union and Confederate soldiers. As founder of the Moody Church and the Moody Bible Institute, his voice and message were heard throughout the nineteenth-century world, in particular by…
Frederick Meyer.
Frederick (F.B.) was mentored by Moody, and went on to have his own nation-wide ministry; a ministry that touched the life of…
J. Wilbur Chapman.
Wilbur was a college student when he accepted Christ at a Meyer meeting. He became a world-renowned evangelist, preaching all over the world; extensively throughout Asia and Australia, and all over the United States. One of his meetings was attended by a young professional baseball player named…
Billy Sunday.
Billy's life was changed at that Chapman meeting. He accepted the love of Jesus, and began preaching the Gospel across America. This former baseball-player-turned-fiery-evangelist preached to over 100 million people, not the least of whom was…
Mordecai Ham.
Saved under the ministry of Billy Sunday, Mordecai Ham saw over 300,000 people make professions of faith during his ministry. In November of 1934, Ham preached a crusade in Charlotte, NC. During one of the meetings, a young, lanky fellow by the name of Billy Frank accepted Christ as his Savior. Billy Frank went on to be a minister of the Gospel, preaching to an estimated 2.2 billion people across the globe. While some people in the Charlotte area knew him as Billy Frank, the rest of the world knows him better as…
Billy Graham.
The ministry of these men, whose ministries combined have seen billions come to faith in Christ, all started because a man named Edward Kimball allowed himself to be used by God to teach Sunday School to a group of rowdy teenage boys in Massachusetts.
So who are you reaching out to with your life? How are you being salt and light in a world that so desperately needs good influences? What kind word or witness can you share today with one person that may affect hundreds (or thousands) in years to come?
Really, you are the only one who can answer those questions. Maybe the idea that you could influence masses of people scares the daylights out of you. If so, just remember this little secret…
Don't go about it trying to change the world. Just determine to influence one life at a time, and let God do the rest.
So, what difference will it make?
Time will tell, and Heaven will testify.